Exeter City Chimney Sweep offer a full range of services. We can take care of any issues or cleaning requirements needed.
Once you have your chimney sweeping service booked we will let you know a few things to prepare before we attend. You can rest assured that we will leave your property as we found it as we always wear protective clothing and use dust sheets.
Take a moment to look at our service below.
Our Chimney Sweep Services
Many birds plus other beasties like squirrels, bees, wasps and insects can often make their homes in your chimney causing a potentially dangerous blockage
A blocked chimney can result in smoke or lethal gases like carbon monoxide escaping into your home or even cause a chimney fire so keeping your chimney clear of blockages is vitally important for health and safety
We can safely remove nests and give advice on hives. Once removed can install a cowl to prevent a return visit
Birds, nests and their eggs are protected by Law and there are severe penalties issued for deliberately destroying active nests. Read More >
A chimney cowl is a hood shaped covering that fits over the top of your chimney pot and prevents a multitude of problems.
A well fitted cowl can stop birds, squirrels and other animals falling or nesting in your chimney which can cause your chimney to be blocked. A blocked chimney can potentially cause lethal gases to escape into your room and even cause a chimney fire.
Dead birds and animals trapped in your chimney can also cause nasty smells and attract flies. Chimney Cowls can also prevent rain getting in which can cause damp patches in your chimney or in your home. Read More >
There are lots of different types of traditional brushes and rods that are used to sweep your chimney and clear blockages.
Before any brushes are inserted into your chimney we will carry out a survey to ascertain what type, thickness and size of brush is needed. We use special dust sheets which have tighter fibres than normal which will be laid around the fireplace to prevent any soot and debris escaping into the room.
The selected brushes are then connected to a rod or rods and are pushed up inside the chimney to clear any build up of ash and soot or to remove any blockages. Read More >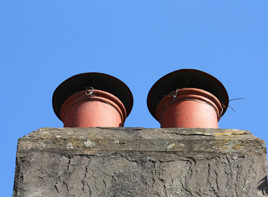 Power Sweeping is a more powerful and effective method of cleaning your chimney as it uses a high speed drill action to spin the brushes at up to 1200 rpm up inside your chimney.
Through the power of centrifugal force the brush head not only centres itself, but also expands to suit the flue you are sweeping.
By increasing the speed of the drill the sweeping action is increased having the effect of stiffening the brushing action enabling the brushes to clean both the corners and the sides of your chimney much more effectively. Read More >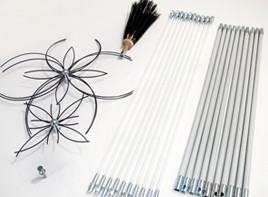 As well as traditional chimney sweeping, we also offer chimney repairs.
We can carry out most minor repairs such as repointing and re-flaunching your chimney pot or stack, repair broken or unstable brickwork and repair and install a range of chimney cowls to prevent birds and other wildlife getting into your chimney.
We can also carry out surveys and safety checks to ensure your chimney is working safely and efficiently. Read More >
If you have a coal or wood fire then you should have your chimney swept at least once a year to help protect both your health and your home. Sweeping your chimney on a regular basis will make sure your fireplace functions both safely and efficiently as it will prevent harmful gases escaping back into your room, avoid smoke damage, prevent chimney fires and help your fire burn more effectively, saving you money.
We deliver a reliable and efficient local service and offer traditional brush chimney sweeping as well as power sweeping, bird nest removal, cowl installations and minor chimney repairs
We can sweep coal, oil, gas and wood pellet burning appliances and venting systems using traditional chimney brushes and rods as well as more modern tools such as power brushes, vacuums, cameras and other special chimney sweeping tools.
info@exeterchimneysweep.co.uk